That likely spells an end for the network's current lineup of scripted original series like "Riverdale" and "The Flash" that are more expensive to produce and mostly benefit streaming-focused TV studios like Warner Bros. Discovery and Paramount Global that now have only 12.5% stakes in the network. Such shows had been the bedrock of The CW's primetime lineup for years, but had failed to lift the network to profitability after 16 years on the air.
While the network's former owners were willing to take losses for the digital and international sales the shows generated, the new Nexstar team has different financial priorities — including an ambitious goal of achieving profitability within three years. (Nexstar paid no cash for The CW but assumed roughly $100 million in debt.)
"Dennis Miller is a very savvy entertainment business leader, and I would assume that he's going to be announcing some kind of vision for the network sooner than later," Tom Nunan, a UCLA School of Theater, Film and Television lecturer and former president of UPN, told TheWrap. "It's a big deal to change the direction of a network and it's not something that can happen overnight. Announcing that they hope that the channel can be profitable by 2025 is quite an ambitious goal, especially if they're going to stay with the seven nights a week, original programming schedule."
The CW was born out of the 2006 merging of CBS Corporation's UPN (United Paramount Network) and Warner Bros.' The WB, two competing broadcast networks that were flailing financially. In the process, UPN's programming, which included groundbreaking Black-led sitcoms like "Moesha" and "Girlfriends," largely disappeared in favor of The WB's broader but less diverse series, like "Buffy the Vampire Slayer." The CW, which has typically catered to a younger skewing audience than other broadcast networks, then adopted the latter's brand identity with flagship series like "Gossip Girl" and "The Vampire Diaries" before becoming one of today's most inclusive networks in terms of both off- and on-screen talent.
So, what might this new iteration of The CW look like?
Nexstar telegraphed its plans for the network in May. Known for decades as a hub for YA-oriented and genre series, The CW announced a slew of cancellations — including "Legacies," "Batwoman," "Charmed" and "Roswell: New Mexico" — which for the first time outnumbered renewals. As Nexstar takes the reins, the status of other long-running scripted shows remains tenuous.
Amanda D. Lotz, a media studies professor at Queensland University of Technology who specializes in U.S. television, said the way forward for The CW includes cost-cutting measures where scripted dramas and single-cam comedies (which are more expensive to produce than multi-cam sitcoms) will likely take a hit.
"Audience fragmentation is toughest for scripted," Lotz told TheWrap. "Dramas/comedies are expensive to make relative to the audiences they attract now that we have so many options. In a world with this much choice, it is just about impossible to make something that will bring in enough viewers, especially if you make them watch at a certain time. The new CW strategy follows what Fox has generally done since selling the studio to Disney, and follows many broadcasters around the world out of scripted."
As a result, the network under Nexstar's direction will likely prioritize low-cost alternative programming. "Buzzy reality can work, especially those based on 'relationship' drama ('Married at First Sight,' 'Bachelor,' 'Love Island'), game shows with celebrities, panel shows with comedians," Lotz explained. "A lot of opinion/personality-driven shows pretending to be news (see cable or talk radio). There isn't more revenue available, so the only answer is cutting costs."
Focus on broadcast and local news
As the largest owner of national TV stations — nearly 200 across the U.S. — Nexstar's primary commitment will lie in broadcast, which may include more syndicated reruns.
"I've heard that they want to be profitable, that they want to create content that's going to flow more successfully into their news hours at 10 o'clock, but whether or not that's reality TV or sports or unscripted — whatever you want to call anything but scripted TV — I think remains to be seen," Nunan said.
He continued, "It seems to me like a wide open playing field for that channel. And the only kind of hint we're getting about the future is that they want it to be helpful to their local news."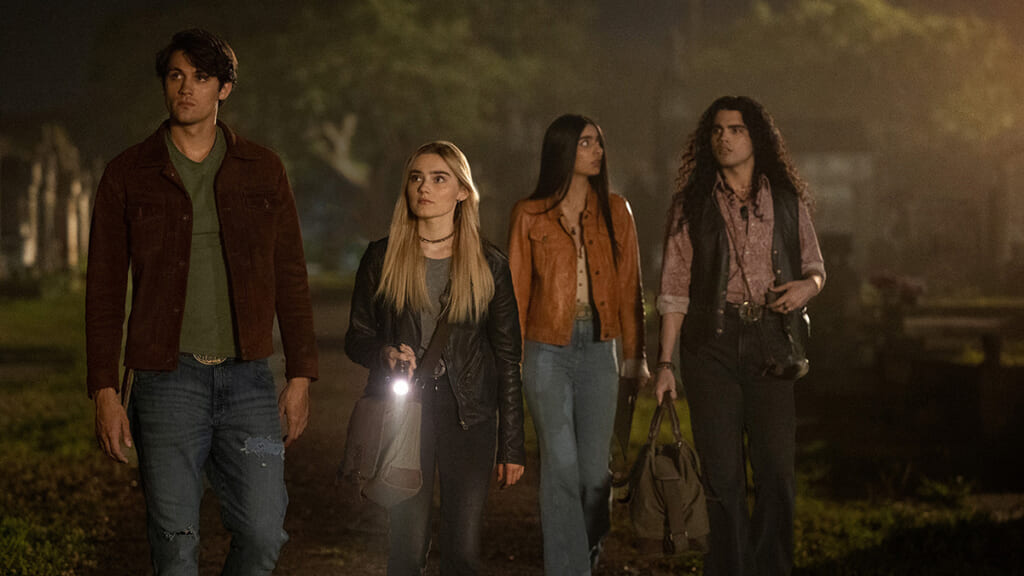 The "end of the golden age" for The CW's most-known YA shows
Nexstar is expected to home in on low-cost content acquisitions that benefit its bottom line, which carries a big risk: the loss of the brand's identity. "You become a network known for the deals that you're making, versus the audience you're trying to reach," Nunan said. "And I'm not suggesting that that's what Dennis is going to create whatsoever, but if you get a reputation for programming deals, as opposed to programming great content that is designed to feed into each other night-after-night, it's probably not going to work."
One of the main questions raised about The CW's new creative and business direction is how it will impact the types of shows the network has built its audience and identity around. Robbie Thompson — an executive producer and showrunner of The CW's upcoming show "The Winchesters," a prequel series to the famed "Supernatural" (which Thompson was also heavily involved in) — said Pedowitz was the type of network executive a producer would "dream" about, as a "champion of genre television and also a champion of old-school television." 
"There was a moment when we were developing the pilot where he was giving us notes that were so granular and referencing such a specific moment from such a specific episode that you would have thought you were at a 'Supernatural' convention," Thompson told TheWrap. "But it's that level of detail that Mark brought to all of all of the stories that he helped usher into The CW."
During "The Winchesters" virtual panel at the Television Critics Association on Tuesday, star Jensen Ackles added that Pedowitz rescued "Supernatural" from cancellation, leading it to become the phenomenon it is today. "It had been put on Friday nights to kind of go away and die. We somehow found a way to survive. He came in, he recognized it and said, 'Well, let's move these guys to some better real estate.' And when we did, we quickly took off," Ackles said, adding that he and co-star Jared Padalecki would joke that Pedowitz was like the "other Winchester brother."
A symptom of "peak TV"
The CW's trajectory is also symptomatic of how the bubble seems to have burst for the larger "peak TV" phenomenon. Robert "Bob" Thompson, a trustee professor of television, radio and film at Syracuse University's Newhouse School, pointed to how other networks like TBS have scaled back on original programming while stalwart NBC is considering cutting its 10 p.m. primetime hour slot. 
"It looks like now what they're going to be doing is going to be much more affiliate friendly," Thompson told TheWrap, "which means probably cheaper programming, news, documentary, whatever, reality kind of thing. So if I were to make a prediction, I would think the golden age of the CW type of drama has probably peaked."
However, Thompson added as a caveat that the shift in priorities doesn't necessarily indicate a complete end to such programming. Popular scripted series like "All American" and "The Flash" may just become more of a rarity. "It's not as though they're completely wiping the network clean," he said. "Shows like 'All American' may not be disappearing, but there's gonna be fewer shows like that."
Despite the immense change that is looming for The CW, Nunan is optimistic that the transition will be anything but "chaotic and disruptive and confusing," which can often be the case under new leadership and an overhaul of previous business models. It's not going to be "lights on and off overnight," but rather a "gradual" shift, he said.
"Pedowitz has been a steady hand for over a decade with The CW and Dennis Miller is also a steady hand, so I think you're gonna deal with one professional handing over the keys, so to speak, to another real professional, and that we can look forward to most likely a smooth transition from one vision for the channel to another," Nunan explained, adding, "Believe me, nobody wants The CW to go away. No one wants that channel to fail. In fact, the industry wants it to succeed."